About
BRITANNIA MICRO FOOTIE 2018
Britannia has been offering this popular recreational spring soccer league for 25 years! Saturday game days will be held at Empire Bowl and Robson Park.  Practices will continue to take place in our local fields Garden & Robson Parks, Brit Oval.  Registration includes playing soccer in the sunshine 2X/week. Don't forget to check out the many events and surprises we be plannning to celebrate 25 years of Micro Footie at www.britanniasoccer.org. No classes May 19, 21 2018.
Important Announcement:
In the 2018 season, Jason Kyle, founder of the Britannia Micro Footie program will be transitioning into taking on the administrative responsibilities of the program.  Historically, Britannia Community Centre Recreation Staff have administered, coordinated and delivered the program.  In the past, Jason has acted as a visionary, trainer of the coaches, field supervisor and advisor.   In Jason's new agreement, he will be much more involved in the day to day operation of the program, making up teams, game schedules, updating the website, implementing staff, coaches and referee training, responding to day to day emails, questions and issues.   Jason can be contacted at info@microfootie.com  or by phone at 604-336-0091.
Staff
The mission of the Britannia Micro Footie Soccer program is to provide a safe and fun recreational soccer program that helps to develop children's knowledge, skill and attitude toward positive involvement in soccer and sport, in general. The overall goal of the Britannia Micro Footie Program is to create an organized, accessible physical activity for all children and youth in the community.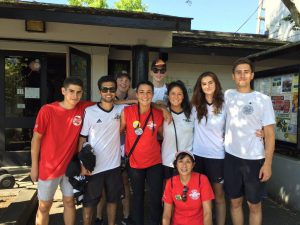 Our volunteer Coaches involved in Micro Footie promote fair play, giving a total effort, while also respecting self, teammates and opponents. In addition, the Micro Footie league intends to foster a love of sport and physical activity through fun and enjoyment of team soccer.
Most of our amazing staff & field supervisors are Micro Footie grads! Many of them started with the program as players from the tender age of 3yrs and now stay involved by coaching & supporting the next generation of players & fans. For our 2018 field staff line-up, visit our "News & Events" blog.